August 2019 Realty Insights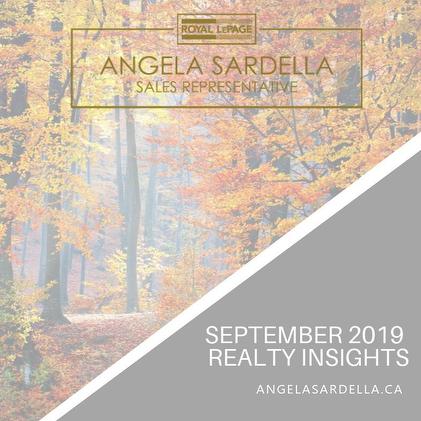 SEPTEMBER 2019 REALTY INSIGHTS

Looking to make a move?
With all of the mixed media messages, it's no wonder that people often wonder - is now is the best time to get into a new place? While nothing is guaranteed to go straight up, real estate is a proven and predictable investment that appreciates over time.

What makes this a great time to explore real estate opportunities?
1) Over the summer we've seen Fixed Rate Mortgages offered at even more favourable rates, with Big Bank Special Offers featuring rates below their Prime Lending Rate.

2) The Bank of Canada Lowered the Benchmark Qualifying Rate on July 17th, giving borrowers a little more leeway to qualify for a mortgage.

3) On September 4th, the Bank of Canada announced that it was holding the Key Rate Steady at 1.75%.
Added to these, the U.S Federal Reserve lowered its benchmark rate a quarter-point - from the target range of 2.25% to 2.5% to a target range of 2.0% to 2.25% - the first cut in more than a decade. And while the Bank of Canada is unlikely to follow the downward direction on September 4th, the U.S. Fed has certainly set the tone for the next few months.

If you're looking for opportunities in this Autumn market, I am always here to show you, or people you know, a wonderful place to call home right now.

Looking for market knowledge? Call me.
---

Heating Season's Coming - Get a Furnace Inspection 
Once the cold weather sets in, you want to know the furnace is running reliably. An unexpected breakdown could be more than a chilly night, it may mean frozen water pipes if it happens while you're away. Plus, a well-adjusted heating system saves money on fuel and prolongs furnace life.

Some maintenance is easy, like replacing the filter, however, it's a good idea to have the furnace professionally inspected and cleaned annually.
It should include:
• Safety test for carbon monoxide (CO)
• Check for debris in the chimney and flue
• Replace air filters
• Check thermostat
• Check and clean gas pilot safety system
• Clean motor and fan
• Clean burners and set for proper combustion
• Check gas connection to the furnace

Looking for a heating contractor? Try www.hrai.ca or call toll-free 1-877-467-HRAI. Your connection to the Heating, Refrigeration and Air Conditioning Contractors of Canada (HRAC)
---
Make any Window a Fire Escape?
Emergency escape ladders are compact and can be used to quickly exit the upper floors of a home. To choose the correct fire escape ladder, determine which windows will be used as emergency exit points and then, for each window, measure the actual height from the window to the ground.

Emergency escape ladders come in a variety of lengths: a 2-storey ladder is about 14 feet long. Plus, they're designed to support different weights.

The roll-up style ladder is compact, so it's easy to store in a closet, but be sure it's easily accessible when seconds count.

You'll find them at most home improvement centers.
---

Is Your Home Empty-Nester Ready?
As the baby-boomer generation ages, sights are set on a different type of home. What's grabbing the attention of these now-getting-older homebuyers?
•    Wider doorways
•    Non-slip floors
•    Lighting, with even distribution
•    Easily accessible electrical outlets and light switches
•    Door levers rather than door knobs
•    Bathroom supports and grab bars in tubs and showers
•    And a big one today, in-house elevators.

YES… today some newly built and/or homes undergoing an extensive renovation are having spaces as small as 5x5 set aside as a roughed-in elevator shaft, for future use.
---
I hope you enjoyed reading this month's Realty Insights.
 


Angela Sardella, 

416.709.0993
Royal LePage,

 S

ales Representative




RCR Realty, Brokerage




1-12612 Highway 50, Bolton ON L7E 1T6




Office: 
905-857-0651
asardella@royallepage.ca
www.angelasardella.ca
When it comes to Real Estate, trust is key!