May 2019 Realty Insights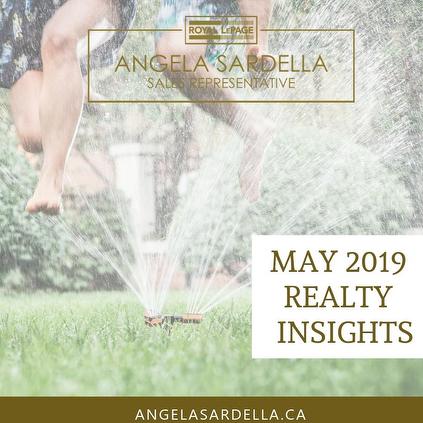 MAY 2019 REALTY INSIGHTS

Summer's Just Around the Corner 
The coming Victoria Day long weekend always seems to signal that summer is close. And with the warming weather you've likely noticed more Open House signs dotting street corners with the increased activity in our real estate market. If a move is part of your plan, let's get together and review what your dreams of a new place include, so I can introduce you to the home that fits your lifestyle and financial objectives. 

Even if you're not ready for a move, you may know someone who is thinking about buying or selling a home. When you're involved in conversations about real estate, keep me in mind. You know I am just a phone call away with the answers and information your family, friends or colleagues are looking for. Thanks for sharing my name. I am always here to help.
---
Condo Insurance - Mind the Gap! 
Condominium owners could face unexpected expenses due to the limitations of the Condominium Corporation's Master Insurance Policy. There are specialized insurance policy packages that help protect condominium owners against common, yet often unrecognized gaps in typical condo coverage.
Plus, there's a type of insurance known as Addition & Alteration insurance. In the event of damage to your unit, this type of insurance can cover some of the upgrades made to a condominium unit, from hardwood floors to lighting fixtures. 
There's also insurance available that reimburses owners for their portion of the repair costs and/or the master policy deductible to repair damage to a Common Area, for an unforeseen event such as a pipe bursting in a condominium lobby or gym.
Review your coverage with your Insurance Broker. Ask questions - before, not after.  Looking for an Insurance Broker, contact me - I can review a couple to you.
---
Tree Planting? More Than Aesthetics to Consider
Trees can add value, curb appeal and improve air quality. They can also cause problems down the road without proper planning.
Before you plant, know where the gas lines are buried. It's not just about digging safely, it's also important to plan for the tree's growth. It's recommended to leave at least 1.2 metres (4 feet) of space between the edge of the root ball and underground natural gas pipes.
Also, don't plant trees too close to the foundation walls. Roots have been known to break through basement walls. As well, consider the leaves falling into the eavestrough causing clogs and inside water leaks.
Consider planting for energy conservation. Deciduous trees will shade the west, south and east sides of a home in summer, and evergreen trees along the west and north edges of the lot will provide winter windbreaks.
---
Time for Your Home's Annual Check-Up
Before the heat sets in, give your property a top-to-bottom, inside out inspection to assess any Winter damage and get your home ready for Summer enjoyment.
Inside:
• Clean the humidifier
• Change the furnace filter and clean the HRV
• Inspect the basement or crawl spaces
• Look into the attic to spot leaks, mould, and critters
• Test smoke alarms and carbon monoxide detectors
• Check the expiry date on fire extinguishers
• Schedule an A/C inspection
Outside:
• Check eavestroughs and downspouts for leaks & make sure they're attached securely
• Inspect the roof for loose or cracked shingles
• Check driveways and walks for frost damage
• Plan landscaping to avoid soil settlement and water ponding
• Inspect fences
• Check caulking around windows and doors
• Inspect the foundation for cracks
• Inspect and vacuum the dryer exhaust
• Clean and seal the deck
---
I hope you enjoyed reading this month's Realty Insights.
Angela Sardella
, 416.709.0993
When it comes to Real Estate, trust is key! 

🔑