New Page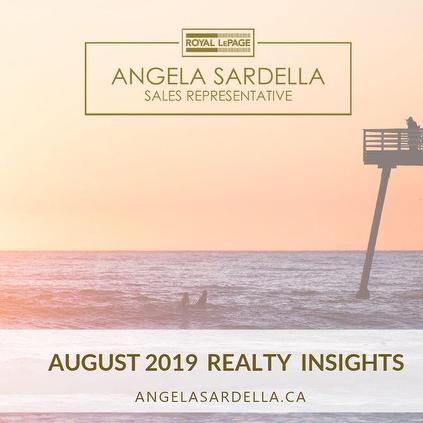 AUGUST 2019 REALTY INSIGHTS

Long Weekends & Enjoying the Great Outdoors!
It's what summer is all about. And while many of us are focused on spending time with friends and family, it's also a tremendous time to take a look at some values in the marketplace if you're thinking of a change of scenery.

Another factor that may have you considering a move is that Interest Rates - Variable and Fixed Rates - continue to trend favourably low. The Bank of Canada again held the Key Rate at 1.75% on July 10th. And some of the Big Bank Special-Offer 5-year Fixed Rates are actually being offered below the Bank's posted Prime Rate.

Whatever your plans, always know that I help families find their ideal home and I help investors find real estate opportunities in this changing market. I know the market. And when we work together, you'll find that I deliver a wealth of neighbourhood information, as well as the latest facts and trends. 
I work to achieve your homeownership goals and represent & negotiate for you. You'll always welcome my knowledgeable advice and appreciate my dedication to excellence.
---

Holidays on Your Mind?
This travel season, a few tips to help keep your belongings safe while you're away.
• Don't share vacation plans on social media and wait until you return to post travel pics. You never know who online is looking for a vacant home.
• Have someone collect flyers and mail
• Fool potential burglars into thinking that someone is home. Sure you can plug lights and even a radio into a timer, but there are other cool options like a "barking dog" sensor that's triggered when the door handle is touched.
• Hide your valuables. On average burglars spend eight to ten minutes in a home. Don't leave valuables in plain sight or in obvious hiding places. Skip drawers, closets and even freezers. Instead, use old food boxes and containers to stash valuables or put them behind things in a kitchen cabinet.
• Don't Let Your GPS Lead Burglars to Your Home. If you're parking the car at the airport while you're away, take the GPS out of the car. If a thief breaks into the car and turns on the GPS they can often quickly discover where you live. Always have "Home" set for someplace that's not your actual address.
 
---


Deciding on a Driveway?
If you're in the planning stages of resurfacing the driveway, you may be weighing the advantages and disadvantages of concrete and asphalt.

Compared with concrete, an asphalt driveway:
• Is less expensive
• Is less prone to frost damage
• Is easier to DIY fix
• Is easier to clean
• Can be re-layered

Both need to be sealed every few years. And both are good for snow removal. Concrete excels in areas where the winter isn't too harsh. And can last 30 to 50 years. Asphalt has a lifespan of about 15 years.
---

Chemical-Free Pest Control
With the environmental-focus these days, there's a push to go chemical-free when controlling garden pests. 
A few ways to get started:
• Use plants to attract beneficial insects such as mini-wasps, nematodes, and ladybugs that attack pests. Or, build a bat box or birdhouse to attract larger pest-eaters.
• Mix a spray with strong odours (garlic or pepper). Oils like neem or citrus work as well. Or try soaps that repel insects. Apply the spray directly to plants or soil. There are plenty of recipes online.
• For controlling snails and slugs, place a dish of beer in the garden. They love to drink and will stay at the "bar."
As with conventional pesticides, natural pest control products have the potential to harm beneficial insects as well as pets, so use them with caution.
---
I hope you enjoyed reading this month's Realty Insights.
 
Angela Sardella, 416.709.0993
Royal LePage, S

ales Representative




RCR Realty, Brokerage




1-12612 Highway 50, Bolton ON L7E 1T6




Office: 
905-857-0651
asardella@royallepage.ca
www.angelasardella.ca
When it comes to Real Estate, trust is key!