April 2019 Realty News Insights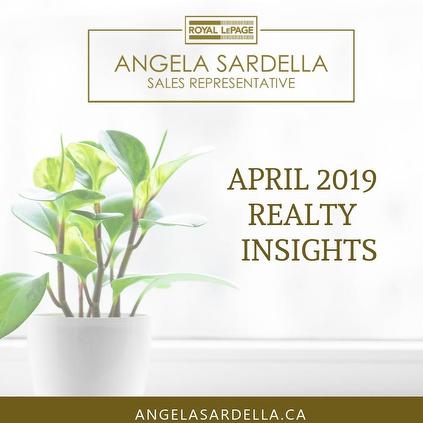 APRIL 2019 REALTY NEWS INSIGHTS
Looking Forward to a Busy Spring 
As the season changes, we all seem to be heading outside once again. For some it's a trip to the local garden centre or an evening walk. It's also a wonderful time to reconnect with people we've missed during "Winter hibernation."

The increased real estate market activity may have you thinking about a move. My neighbourhood knowledge and my ability to spot opportunities are two reasons why people who have worked with me, continue to rely on me as their trusted home buying and home selling resource.

Enjoy the arrival of Spring - even as we continue to experience Winter's last blasts. And please remember, I am always here to share information about the housing market whenever you or someone you know has questions.
---
More to a Mortgage than the Rate
With the Bank of Canada holding the Key Rate steady, Variable Mortgage Rates aren't budging. And Fixed Mortgage Rates are trending where they were approximately five years ago - even edging a bit lower. 

While it's tempting to just focus on the mortgage interest rate, there's more to consider. Sure a lower rate means extra money in your pocket, but before choosing a mortgage, find out details like:
•    Prepayment privileges, as well as prepayment penalties. Yes, even with a Prepayment Privilege - there could be a fee.
•    Portability. Making a move? Can the mortgage go with you? And under what conditions?
•    Cash Back. And are there Cash Back "clawbacks"?
•    Restrictions on refinancing before maturity.

Plus, with the mortgage qualification rules that were updated last year, you'll want to know if you could be facing hurdles when it comes time to renew your home financing.
---
To Manage Mould - First Manage Moisture
It's a time of year when basements can flood, or maybe just show signs of moisture seepage. Managing dampness in a home can be a challenge any time of year, but in Spring, excess moisture can lead to mould issues. 
Concrobium Moisture Grabbers™ XL is the next generation of humidity reduction technology for large, indoor areas. Think of them like an industrial version of the silica jell pouches that we find packed in shoes and electronics. The water-absorbing pouches absorb and trap excess moisture in areas that are prone to excess humidity. They're ideal for damp, musty areas such as basements and crawlspaces, and for areas that can trap humidity such as attics and garages. Concrobium Moisture Grabbers XL can even be used after flood damage for longer term moisture management. 
One Concrobium Moisture Grabber XL pouch treats areas up to 1,000 cubic feet and can be effective for up to 6 months depending on the size of the area, temperature, and humidity conditions.
Find out more at: www.curemymold.com
---

The Board Is Meeting Where? 
Getting members together for a Condo Board meeting is sometimes difficult. With today's technology, some Condo Boards are opting for conference calls or web meetings. However, for a Board of Directors to be able to hold Board meetings in a forum other than an in-person meeting, the Condominium Corporation may have to create a provision in the by-laws covering meetings held using alternative methods. Having a by-law in place, shouldn't preclude resident attendance.
 
---
I hope you have enjoyed this month's Realty Insights!

Angela Sardella, 416-709-0993
asardella@royallepage.ca